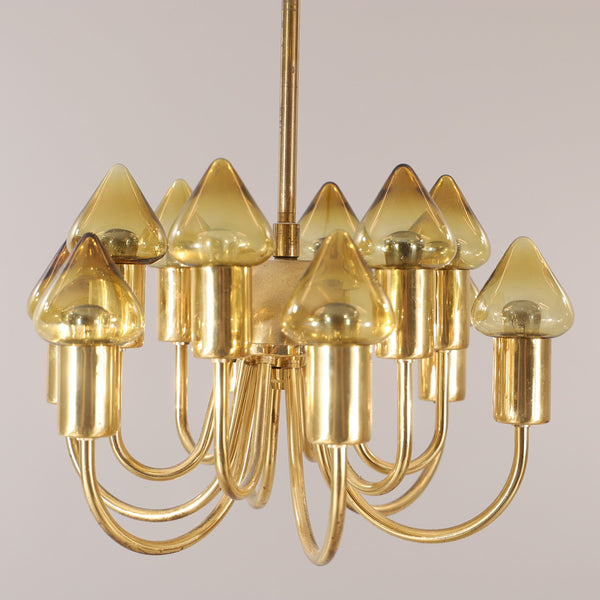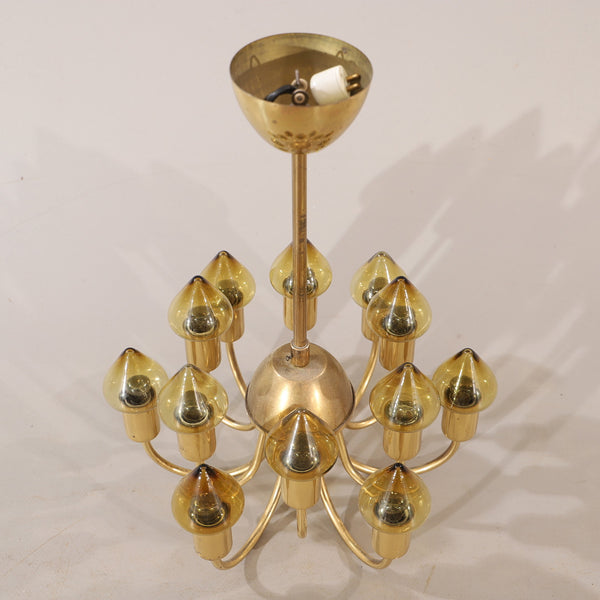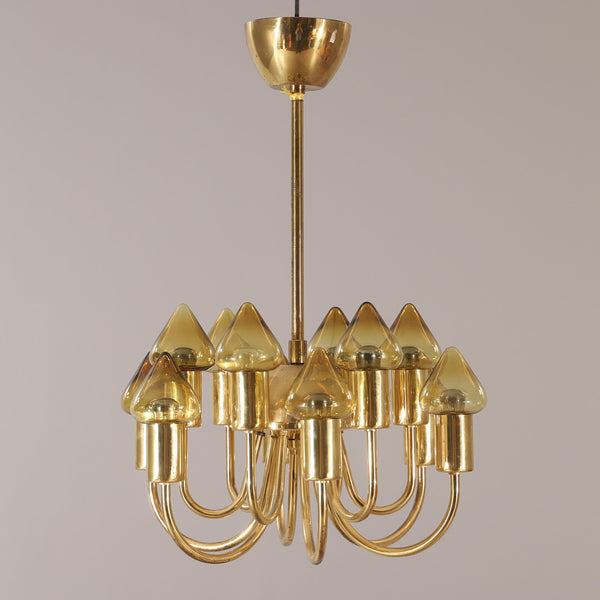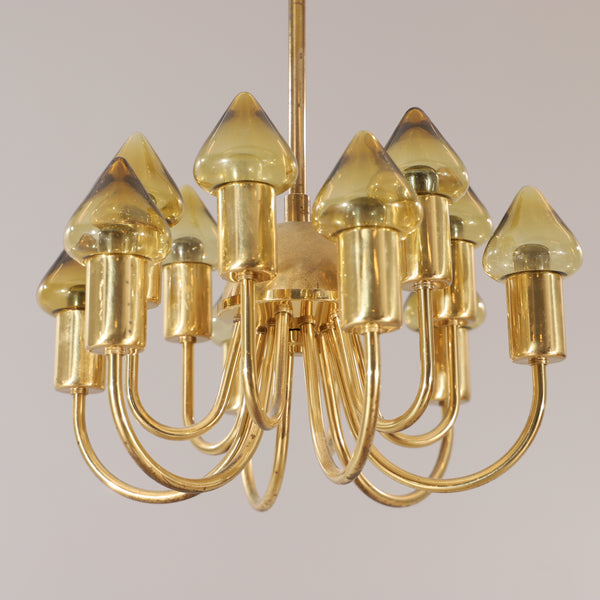 Mid-Century Modern Hans-Agne Jakobsson Brass and Glass Model T 789/12 Chandelier, Sweden 1960's
In the vibrant landscape of mid-20th century Scandinavian design, Hans-Agne Jakobsson stands out as a luminary. His creations, known for their exquisite craftsmanship and timeless elegance, continue to captivate collectors and enthusiasts around the world. Among his most coveted pieces is the rare small chandelier, Model T 789/12, a stunning representation of Swedish design excellence from the 1960s. 

Design and Materials: 
The Model T 789/12 chandelier exudes the quintessential qualities of mid-century Scandinavian design. Crafted with meticulous attention to detail, it features an exquisite brass frame that effortlessly blends functionality with artistic expression.  
One of the defining features of this rare chandelier is its original amber glass shades. These shades, gently curved and delicately tinted, create a warm and inviting ambiance when lit. The amber glass diffuses the light beautifully. 

Form and Function: 
With its compact size, the Model T 789/12 chandelier is ideally suited for smaller spaces or as a focal point in a larger room. Its thoughtful design allows it to provide both ample illumination and an aesthetic centerpiece without overwhelming the surroundings. 
The twelve arms elegantly extend from the central brass fixture, each culminating in a glowing amber glass shade. This symmetrical arrangement ensures balanced lighting, making it perfect for dining areas, living rooms, or even as a welcoming piece in an entryway. 

Hans-Agne Jakobsson's Legacy: 
Hans-Agne Jakobsson, a Swedish lighting designer, was renowned for his ability to blend form and function seamlessly. Its timeless appeal and graceful lines are a testament to Jakobsson's commitment to creating enduring pieces that transcend generations. 

Collectibility: 
Given its rarity and historical significance, the Model T 789/12 chandelier is highly sought after by collectors of mid-century modern design. Its limited availability adds to its allure, making it a prized possession for those fortunate enough to acquire one. 
 
Creator: Hans-Agne Jakobsson (Designer), Markaryd (Producer)
Dimensions: Height (including rod): 55 cm, Diameter: 41 cm 
Power Source: Hardwired
Lampshade: Included
Style: Mid-Century Modern (Of the Period)
Materials and Techniques: Brass and Glass
Place of Origin: Sweden
Period: 1960-1969
Date of Manufacture: 1960
Condition: Good. Wear consistent with age and use. There is some small scratches on the brass arms.

Original amber glass shades, brass frame, and rod. No damages to the brass sockets holding th 12 amber glass shades.