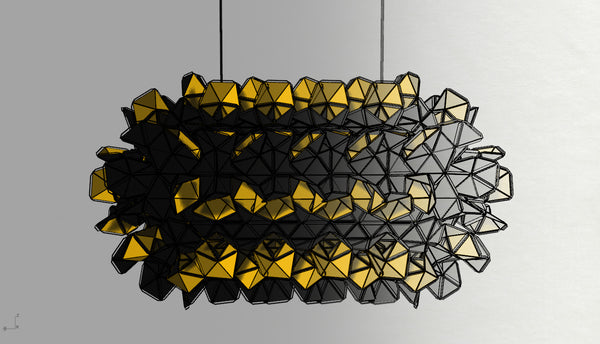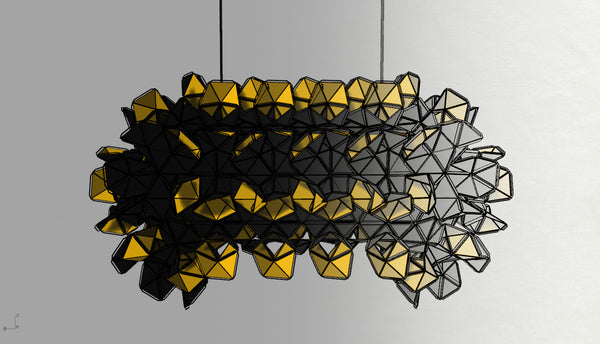 Larger custom Labyrinths
Sketches on stretched out Labyrinth.
There will be several options to make the Labyrinth concept streching out or bend. The design will be adopted to client preferances and setting for the installation. 
The outside of the Labyrinth has a matte black surface. This is in strong contrast to the protruding openings where the golden surface of the inside is exposed. The observer can get a glimpse of the warm light reflected from the inside, but never see the light source itself.
The pattern of the connected building pieces is repeated but complex; observing the Labyrinth from different angles transforms it from perceived chaotic surfaces to suddenly line up in perfect symmetry.
This lamp sculpture is called Labyrinth because when it is closed at the bottom (original version), there is no direct way out for the light, all light must reflect to find its way out of the Labyrinth. The costumer can choose whether to keep the Labyrinth closed at the bottom or to easily open up some of the building pieces at the bottom of the lamp sculpture (so that the light of the lamp sculpture can flood downwards).
The Labyrinth is made of black Polygo pieces with adhered gold-colored film on one side.


Price will depend on size and koncept. 
Measures: VARIUS, | Light sources: A number of E27 light sources
Produced and hand made By Republiken in Stockholm, Sweden. 
Design: Jakob Uhlin
Lamps within the same series:
LABYRINTH ORIGINAL    CUSTOM LARGER OYSTERS
Taggar: ljusskulptur, labyrint, lampa, lampskulptur, vardagsrumslampa, salongslampa, designlampa, ljuskrona, belysning, taklampa, pendellampa